---
I'm happy to help a buyer or renter to find an instrument that is in top performance condition, suitable for their needs and, most of all, affordable!  All instruments are serviced by master repairman, Brian Seaton, of Oboehouse and available for sale, rental or trial.  Shipping costs are at the expense of the buyer.  Trial periods are for 10 days.  If you don't see something that you are looking for please inquire as I may not have updated my site or I am waiting for a shipment.  Everything is sold "as-is" and without warranty unless otherwise noted.
________________________________
HOWARTH: XL oboe     $8100
SOLD
New, PRISTINE condition, lined upper joint, with limited manufacturer warranty.  See description.
---
LOREE:  "AK" model, SP series    $TBD
Currently being serviced for general repairs/adjustments.  One owner, excellent condition.  Please check for availability and pricing.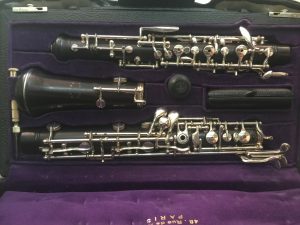 ________________________________
FOX:  330 oboe     $2200
Ideal for the growing student, comes in a hard case, 20xxx, well cared for, recently serviced, plays great!…see description.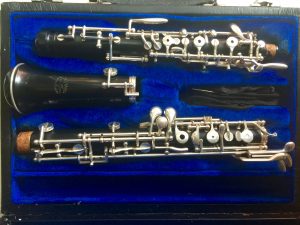 ________________________________
YAMAHA: 441 "Duet" oboe    $2600
This wooden oboe is in "like new" condition with very low mileage!  Beautiful tone with a left F.  Can accommodate smaller hands with F# tab and a closed-hole D; great for an advancing beginner or intermediate player!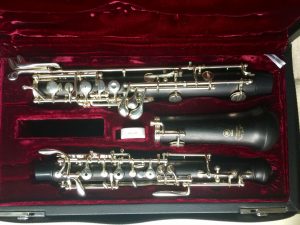 ---
PATRICOLA:  S6 "Evolution" oboe     $5000
This GORGEOUS rosewood oboe is perhaps the most beautiful of its kind with its exquisite graining!  BRAND NEW and professionally set up to be performance ready!  See description.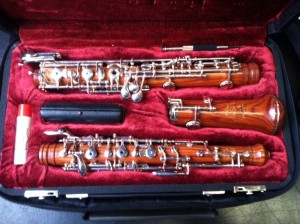 ---
FOX:  300 oboe     $3800
CURRENTLY UNDER RENTAL AGREEMENT
Resin oboe for the advancing student.  Just like the 330 model but added features.  See description.
---
YAMAHA:  241 oboe      $1200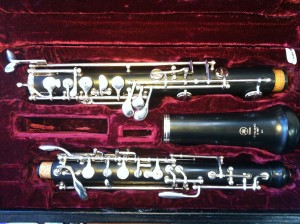 I have two in stock in "like-new" condition…great for beginners and not heavy on the wallet.  See description.
---
LOREE:  Standard English horn     $8150
Instrument comes in a double case (not shown) and with two bocals.  This 10 year old EH has a very rich, dark tone!  Has been professional played and meticulously cared for and has never cracked.  See description.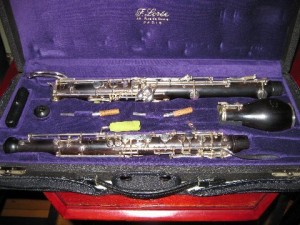 ---
SELMER :  English horn     $4000
SOLD
Lovely older professional model instrument, newly serviced/excellent condition, standard keys with left F and third octave, ideal for the developing oboist that needs experience playing English horn.  Beautiful projection, blows freely.  Case in excellent condition, missing ring on bell.  Comes with two Bocals.  I highly recommend purchasing a Hiniker vocal for this treasure to bring out all of its best features of tone.  Serial 40XX.
__________________________________
GOUGING MACHINE: OBOE, Ross, $1200
Comes with guillotine, second blade, #9038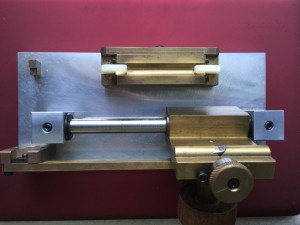 Please inquire for desired instruments or for future instrument yet to come in… contact George Corbett.